There are 3 mainly business units such as Metering and Pipeline Transmission Business, NGV Business and Engineered Pumps and Systems Business which we are specialist of these businesses that our projects accomplishment are acceptable to leading international organization.
SRPLC holds shares in the joint venture "Siamrajathanee" for 90% with the aim to supply equipment procurements and construction of natural gas pipeline and stations. And its participation in the joint venture "Siamrajathanee and Engineering Products for 25% with the purpose of business services related to natural gas for vehicles.
The offered shares to public at the first time is to offering the company shares amount for 75,000,000 shares at par value of 1 baht which representing 25% of the completed issued and paid shares. The shareholding structure after IPO is shown as follows:-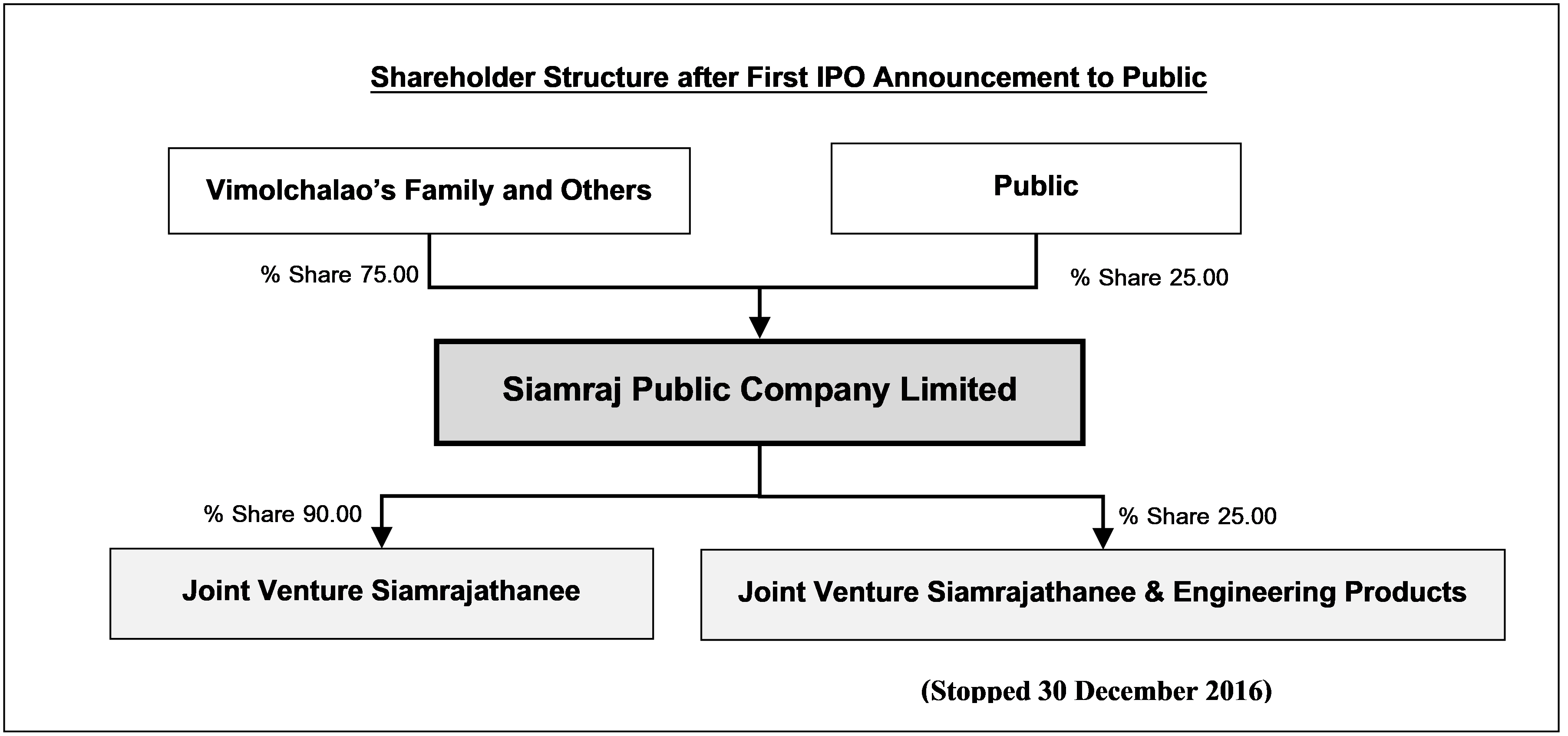 Joint Venture Siamrajathanee – JVSR
The SRPLC had to be a joint venture with the Siamrajathanee Co., Ltd. to establish and operate on business for mainly objective to bid for the construction of natural gas station and metering & pipeline transmission business. Including we also provide to supply the metering & pipeline transmission equipments which on 31st December, 2014, the company holds the joint venture…. of SRPLC accordingly.
Currently, the joint venture Siamrajathanee office is located at 289/9 Moo 10, The Siamrajathanee Building, Old Railway Road, Samrong, Phrapradaeng, Samutprakarn 10130 which it is the same office of SRPLC.
Major Shareholders(@15 Mar 2017)
| | | |
| --- | --- | --- |
| Major Shareholders | # Share | % Share |
| Vimolchalao's Family | 366,000,000 | 61.00 |
| Srisanan's Family | 59,100,000 | 9.85 |
| Public | 174,900,000 | 29.15 |
| Total | 600,000,000 | 100.00 |